Premium Leather
Roma Chagreen Vegetable Goat .6-.75 mm
$70.00 – $130.00
(If you like this leather, please try Capra Granulosa)
All British Tan Roma Chagreen still on hand is grade #2/#3   for grain damage just off-center at one end
Roma Goat has some unusual characteristics. It starts with goatskins, purchased in the hair. The leather is initially tanned / put into the crust in the same locale.  Only skins which are over 1.3 mm in substance and exceed 7 ft in size are accepted.   From there , it is shipped to the EU to a tanner/finisher where the leather is re-tanned, the grain is shrunk, decreasing in size by 20%  drun dyed and finished without a pigment which would hide any defects in the grain.  The leather absorbs water easily and can be tooled with gold leaf and albumen. The grain is shrunk , producing a pebbly surface.
The skins average 6-7 ft/each and are very clean, substance 0.7-0.9 mm.
As this is a new leather, we encourage you to purchase a sample skin rather than ask for a clipping. It is very difficult to tell the properties of the leather from only a swatch. If, for any reason, you are not pleased with the purchase, your money will be refunded and a call tag will be sent for the return.   As the skins are shrunk, skins will vary in grain pattern.  Shrinkage also causes the leather to be more rectangular than square.
Looking forward to your favorable responses.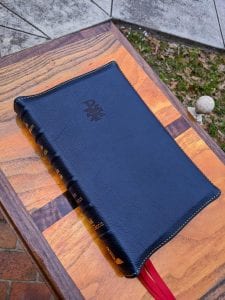 Example of Bible Rebound in Blue Roma Chagreen  (a very popular item for binder)    –  Bound by Jeff Rice at PTL Bible Rebinding
| | |
| --- | --- |
| Color | Mocha, Blue, British Tan, Black, Forest Green, Crimson, British Tan, Red |
| Size | 40-49 sq dm, 50-59 sq dm, 60-69 sq dm, 70-79 sq dm, 80-89 sq dm |